UDLnet European Workshop 24th November 2015
UDLnet organised the "Universal Design for Learning: innovation in promoting inclusive best practice in today's schools" european workshop on 24th November 2015 at Conference Centre of Childvision, the National Education Centre for Blind Children in Drumcondra.
The target audience was teachers, special needs assistants, students, health professionals, school principals, special education experts, academics in the field of inclusive education and universal design for learning.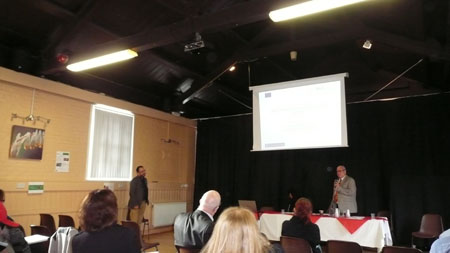 Dr. Alan Bruce, Universal Learning Systems, Dublin
Dr. Daithí Ó Murchú, Educator International Research Consultant in Education, Former Principal Scoil An Cheathrair Alainn
Educational Tradition of Childvision
Ms.Geraldine Neill, Training Coordinator, Childvision
Integrated Schooling- Rosmini Community School – our experience and practice
Ms. Philomena Cherry, Principal, Pobalscoil Rosmini School, Dublin
The role of Assistive Technology in UDL
Mr. Karl O'Keefe, Enable Ireland Disability Services Ltd
Introducing the UDLnet network
Mr. Nikos Zygouritsas, Ellinogermaniki Agogi, Greece
'Inside School Walls: Striving to meet pupils learning need, an ongoing journey'
Mr Arthur Farrell, Enable Ireland Sandymount School, Dublin
The mATHENA inventory of free mobile Assistive Technology applications under the framework of Universal Design for Learning
Prof. Georgios Kouroupetroglou, University of Athens Greece
Teacher Networking forum_and Workshop: sharing good practices from teachers in UDLnet partner countries
Maria Koromia,_English Teacher,_Latsia Lyceum, Nicosia, Cyprus
Raquel Monterrubio, Santa Elena School, Madrid, Spain
Hanna Fontell, Special School Teacher from Postipuu School, the City of Espoo, Finland
Jennifer Doyle, Deputy Principal, Enable Ireland, Sandymount School, Dublin, Ireland
Helga Schuster, Teacher, Pierre- de-Coubertin Gymnasium Berlin, Germany
Nikolaos Nerantzis, Special High School of Thessaloniki, Greece
Round table forum- UDL in Practice:
Ms. Roelien Bos-Wierda & Mr. Ron Barendsen, Leeuwarden University, the Netherlands.
Dr. Barbara Schwartz-Bechet_ Associate Dean, College of Education and Rehabilitation, Salus University, Pennsylvania, United States of America.